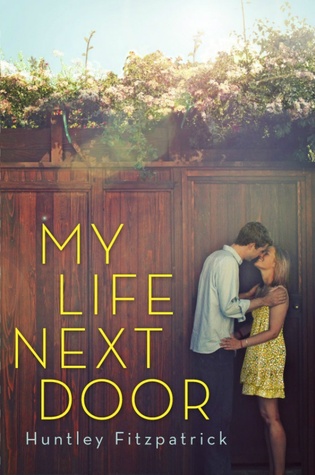 Title: My Life Next Door | Author: Huntley Fitzpatrick | Dial Books | My Life Next Door #1 | 5 Stars | Source: Gifted | 394 pages Young Adult | Contemporary
Release Date: June 14th 2012
Goodreads
Goodreads Synopsis:
The Garretts are everything the Reeds are not. Loud, messy, affectionate. And every day from her rooftop perch, Samantha Reed wishes she was one of them . . . until one summer evening, Jase Garrett climbs up next to her and changes everything.

As the two fall fiercely for each other, stumbling through the awkwardness and awesomeness of first love, Jase's family embraces Samantha – even as she keeps him a secret from her own. Then something unthinkable happens, and the bottom drops out of Samantha's world. She's suddenly faced with an impossible decision. Which perfect family will save her? Or is it time she saved herself?

A transporting debut about family, friendship, first romance, and how to be true to one person you love without betraying another.
Review:
I read this book for the Bout of Books 10 and despite the fact that it was nearly 400 pages, I sped trough it in a day! Just a quick note that I absolutely adored this one. I really enjoyed the plot and the contrast when it came to both of the families. On the one hand you have Samantha and her family who is perfect. Perfect grades, image, house and finances. Then you have the Garrets who are completely the opposite.
I kinda went in to this novel knowing that I would like it. I have heard amazing things about it and the whole premise had me months before I even got this book. It did surprise me with how much I liked it. Not only did I have a sweet summertime contemporary, but I think this novel provided a lot of social commentary.
For example, the differences between the Garrett's and Samantha's family. Samantha's mother does not like the Garrett's she thinks they have too many children, messy and noisy. It is a huge case of snobbery. She looks down on them all the way through the novel. It is something see everyday. Another thing I noticed was in scenes where Mrs. Garrett was shopping with her children, people were telling her what to do with her children. It is so infuriating when people think they have the right to meddle in other peoples business!
A quick note about one of my favourite characters: Tim. He is suffering from addiction and I found it incredibly interesting how his parents dealt with that, in the way they actually didn't and just glossed over it. So many people do this and I love how the whole situation was presented.
Overall, I loved this book and it has to be one of my favourite contemporaries. I think the social commentary that comes in to play not only question my judgements but also everyone else's right to do so, the fact that being rich doesn't necessaries mean financial success. Also the healthy consenting and communicating relationships is something that YA needs more of. I can't sing this novels praises enough.
 Goodreads Average: 4.06/5 (out of 40,351 ratings)
What to buy it? Amazon UK | Amazon US | The Book Depository
EXTRAS
This was supposed to be a quickie review but I ended up writing to much. Now I have to add extras because I have even more to say!
WE ARE GETTING A SEQUEL! Looks like the next one is from Tim's perspective which I am absolutely ecstatic about! I can't wait to see more about his back story!