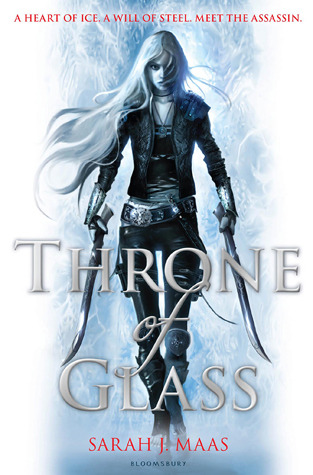 Throne of Glass | Sarah J. Maas | Bloomsbury Publsihing Throne of Glass #1 | 5 Stars | Source: Bought | 404 pages | Young Adult | Fantasy
Release Date: August 2nd, 2012
Goodreads
Goodreads Synopsis:
In the dark, filthy salt mines of Endovier, an eighteen-year-old girl is serving a life sentence. She is a trained assassin, the best of her kind, but she made a fatal mistake: she got caught.

Young Captain Westfall offers her a deal: her freedom in return for one huge sacrifice. Celaena must represent the prince in a to-the-death tournament—fighting the most gifted thieves and assassins in the land. Live or die, Celaena will be free. Win or lose, she is about to discover her true destiny. But will her assassin's heart be melted?
Review:
If there was any novel I was afraid to start because of the hype and praise it has recieved, it was this one. Throne of Glass has received positive reviews from blogger friends the general book buyers alike. I don't think I have ever heard a bad word about it and to be honest, this is rightly so. To put it simply, I adored this novel.
It has everything that a high fantasy should. First we have Celaena, who has to be one of my favourite YA heroines to date. She is one bad-ass, sassy lady and incredibly assertive. Throughout the novel we as readers whole heartedly understand that she can take all the men down around him in a few simple hits.
We have some incredible world building, too. I love how the world slowly comes together. The hierarchies, the territories and imminent wars. I think there was a healthy balance between character development, world building and pacing. For me it was just perfectly executed.
There are some elements of romance in the novel. Some of Celaena's remarks and actions are a bit erratic at times but this completely undertsnafle as she has just spent the last year as a slave in a salt mine. Also, I love even though it forms a part of the overall plot, it is not at the forefront. At the end of the day she has tournament to survive and rightly does not have a lot of time for romance! I am a huge fan of both our love interests though. I am looking forward to seeing more of Chaol in the sequels.
Overall, I can't sing Throne of Glass's praises enough. This for me served as a gateway in to High Fantasy and I can't wait to read Crown of Midnight and the prequel novellas. Whether you are a newbie to high fantasy or an avid reader of it, I believe this can truly be your next favourite. All the praise, good reviews and recognition it has is warranted and I look forward to seeing what becomes of this six book series. 
Goodreads Average: 4.17/5 (out of 51,752) This is very strong indeed!
Want to buy it? Amazon UK | Amazon US | The Book Depository 
Extras:
Yet another book that turned from quickie review to a tad longer.
So, we have a six book series coming out way! I hope they are all as good as this one.
Now for a comment question!
Is there a difference between High Fantasy and Fantasy?
For me High Fantasy is a novel is when there is no elements of the society we see today. So the characters in the novel do not live among our society in secret or along side it. Examples: Throne of Glass, Game of Thrones. Kind of like the author has built a whole new world.
Then fantasy for me is where there is the society we live in today. So the characters do live along side humans whether be in secret (e.g: The Shadow Falls series) or along side (e.g: Morganville Vamps).
That is the difference that I find anyway. It is not that one is better than the other. I think they are constructed a little bit differently. I would love to know you thoughts!