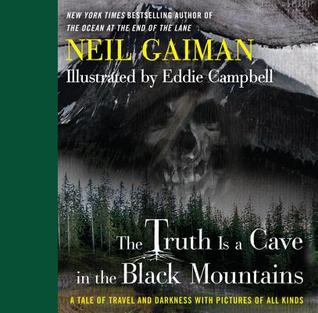 The Truth Is a Cave in the Black Mountains Neil Gaiman | Illustrated by Eddie Campbell
Headline Publishing | Stand Alone | 4 Stars Source: Bookbridgr/Review | Fantasy 
Release Date: June 17th 2014
Goodreads
Goodreads Synopsis:
You ask me if I can forgive myself?
I can forgive myself . . .
And so begins The Truth Is a Cave in the Black Mountains, a haunting story of family, the otherworld, and a search for hidden treasure. This gorgeous full-color illustrated book version was born of a unique collaboration between New York Times bestselling author Neil Gaiman and renowned artist Eddie Campbell, who brought to vivid life the characters and landscape of Gaiman's award-winning story. In this volume, the talents and vision of two great creative geniuses come together in a glorious explosion of color and shadow, memory and regret, vengeance and, ultimately, love.
. . . for many things. For where I left him.
For what I did.
Review:
I have never read a book by Neil Gaiman before, however, I have known of him for years. He is one of those people that you always hear something about. Whether it be his books that receive endless streams of positive reviews or his screen writing. When I saw this pop up for review on Bookbridgr, I just had to request it.
This novel stands at just 80 pages and took me just under an hour to read. I had some level of expectations but I still did not go in with hugely high hopes because as I said before, I have never a read a book by Gaiman. I finished the novel adoring it and in the end I was so glad I requested it.
I am not going to go into too much detail when it comes to synopsis. A man goes to see another gentleman about going to the Black Mountains to find hidden gold. Gold that comes at a huge price. The gentleman agrees to take him there and off the go on a journey to the Black Mountains. To say this is oversimplifying the plot would be an understatement. But I think that is all you need to if you are going to go in to this one without any kind of spoilers.
The Truth is Cave in the Black Mountains is so beautifully written. It has such an eerie and poetic quality to the writing. It probably could have took me less time to read this one but I wanted to take in every word. The plot was interesting to witnessing the plot unfold on top of the writing style made this such an enjoyable read for me.
This book is stunning. Inside and out. Eddie Campbell's illustrations are just breath taking and at some points were even scary. I wish I could share them all. Especially my personal favourite ones. However, I will just leave you with these two as any more will probably spoil some things for anyone who decides to pick this one up.
I recommend this to people who are want to get in to Neil Gaiman's work. As I said before, it is only short. What have you got to lose?
Goodreads Average: 4.16/5 (out of 208 ratings)
This was sent to me by Headline Publishing (Via Bookbridgr) in exchange for an honest review.