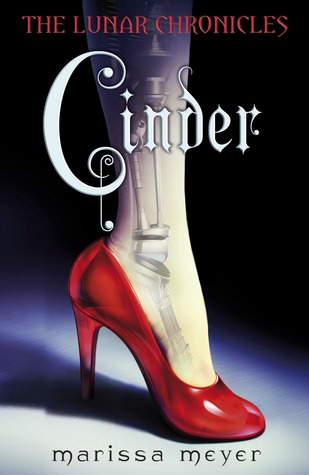 Cinder | Marissa Meyer | Puffin Books | The Lunar Chronicles #1 | 5 Stars | Bought | 387 Pages | Young Adult | Fantasy |  Sci-fi 
Release Date: January 5, 2012
Goodreads
Goodreads Synopsis:
Cinder, a gifted mechanic in New Beijing, is also a cyborg. She's reviled by her stepmother and blamed for her stepsister's sudden illness. But when her life becomes entwined with the handsome Prince Kai's, she finds herself at the centre of a violent struggle between the desires of an evil queen – and a dangerous temptation.
Review:
First, I would like to give a huge shoutout to Pili over at In Love With Handmade for giving me a go ahead to buy this one. I tweeted out asking if it was worth the pennies and she immediately replied with a yes.
I am on a roll when it comes to enjoying books this month. This one is another great edition to this years reads and probably one of my new favourites. I loved it from start to finish. From Cinder herself who is a genuinely kind character to Kai who has to grow up way too fast and is thrusted into the beginnings of a new war. I adored the relationship between them and I look forward to seeing where it will go.
We have three main ongoings in this novel, we have Cinder trying to discover who and what she really is, a budding war between the Commonwealth and the Lunar people and the ongoing battle against an plague sweeping the globe with no cure in sight. I loved seeing how all of these plots intertwined.  Each one is directly or indirectly affected by one another. The huge revelation towards the ending, I called within the first 100 pages of the book. This didn't take away from the overall read. I think it was more about us as readers watching Cinder's reaction to a whole new situation.
This is a great start to a series. I think this really is the start of something brilliant (literally, its the first in a series and all that jazz, you know what I mean though!). I think it is a concrete base for some more fabulous fairy retellings to come. I can't wait to read Scarlet, Cress and Winter!
Goodreads Average: 4.10/5 (Out of 111,950 ratings) –> that is pretty damn strong!