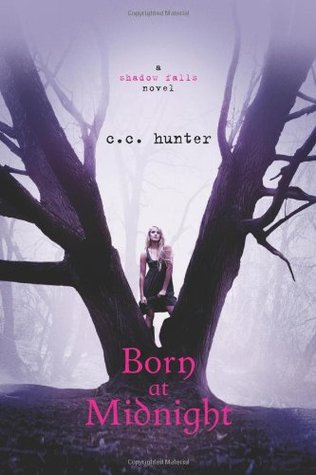 The Shadow Falls Series by CC. Hunter
Published by St. Martin's Griffin
Young Adult, Fantasy, Paranormal. 
Source: Bought
Rating: 5 Stars
Release Dates: 2011-2013
Goodreads Synopsis for #1 (Born at Midnight)
One night Kylie Galen finds herself at the wrong party, with the wrong people, and it changes her life forever. Her mother ships her off to Shadow Falls—a camp for troubled teens, and within hours of arriving, it becomes painfully clear that her fellow campers aren't just "troubled." Here at Shadow Falls, vampires, werewolves, shapeshifters, witches and fairies train side by side—learning to harness their powers, control their magic and live in the normal world.
Kylie's never felt normal, but surely she doesn't belong here with a bunch of paranormal freaks either. Or does she? They insist Kylie is one of them, and that she was brought here for a reason. As if life wasn't complicated enough, enter Derek and Lucas. Derek's a half-fae who's determined to be her boyfriend, and Lucas is a smokin' hot werewolf with whom Kylie shares a secret past. Both Derek and Lucas couldn't be more different, but they both have a powerful hold on her heart. 
Even though Kylie feels deeply uncertain about everything, one thing is becoming painfully clear—Shadow Falls is exactly where she belongs…
I reviewed the first book a while ago. You can find that here.
Review:
It took me around 2 months to start and finish this series. It really was a treat for me. It took me back to the days when I would just sit and read all the time. Not because of review books, but because of the ever growing tbr, but because I wanted to. Off the bat, I wholeheartedly recommend this series and now to try and explain why.
Kylie Galen is shipped off to Shadow Falls Camp for "troubled teens", but it is obvious from the start that they are more gifted than troubled. She finds herself surrounded by werewolves, vampires shapeshifters, fairies and any other paranormal creature you can think off. Having what is essentially a boarding school full of all these creatures away from their parents has provided me with the best reading to date.
I was never a huge fan of Kylie. It never took away from the read though. I found that even though I did not agree with her or some of the decisions she made, I think CC did an amazing job at justifying them and making them plausible. She is a brave an honorable character  and without comes a level of recklessness.
The side characters made this series for me. Holiday, the camp leader and Miranda & Della who are Kylie's best friends were hysterically funny and level headed at the same time. They all brought something to the table and to the series as a whole!
There are a few ongoing plots in the novel. Kylie finding out what she truly is, her romance life that is being constantly turned upside down and the constant threat of someone who wants to kill her. I loved how all of these played a part but never became the forefront. I found that they were all perfectly balanced!
As I said at the start, I wholeheartedly recommend this series. I enjoyed every installment from start to finish. I hope anyone who picks this up enjoys it as much as I did!
Goodreads Average for the series: 4.28/5 (0ut of 130,698 ratings)