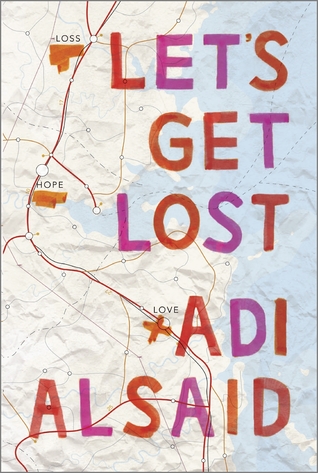 Let's Get Lost | Adi Alsaid | Harlequin Teen | Stand Alone | 352 pages | Young Adult | Contemporary | DNF Source: Netgalley
Release Date: July 29th, 2014
Goodreads
Goodreads Synopsis
Five strangers. Countless adventures. One epic way to get lost. 
Four teens across the country have only one thing in common: a girl named LEILA. She crashes into their lives in her absurdly red car at the moment they need someone the most. 
There's HUDSON, a small-town mechanic who is willing to throw away his dreams for true love. And BREE, a runaway who seizes every Tuesday—and a few stolen goods along the way. ELLIOT believes in happy endings…until his own life goes off-script. And SONIA worries that when she lost her boyfriend, she also lost the ability to love. 
Hudson, Bree, Elliot and Sonia find a friend in Leila. And when Leila leaves them, their lives are forever changed. But it is during Leila's own 4,268-mile journey that she discovers the most important truth— sometimes, what you need most is right where you started. And maybe the only way to find what you're looking for is to get lost along the way.
Review:
To say I wanted to enjoy this novel would be the most monumental understatement among all the understatements. I saw this on Netgalley and I had to have it. Road trip novels are well and truly my jam and I am always looking for my next favourite when it comes to this kind of of subgenre. I went it to this novel with open arms, so you can imagine how distraught I was when I dropped it and thus becoming my first DNF of the year at just over 1oo pages.
I usually don't write DNF reviews but I want to encourage people to try this one out despite me not what I read of this that much.
Every now and again, I come across a book that I can't get in to. This was one of them. I usually give books 50 pages, but I doubled that for this one. I genuinely tried. After 100 pages I was just not a fan of where this was heading. Leila was a a bit hard to empathize with and the whole POV changes are not something that I am too huge a fan of anyways. It got to the point where I just did not want to put more of my time in to it. I think I may have hyped this up a bit too much and it kind of fell flat. My doing and undoing when it came to reading this.
One thing that is certain when it comes to this novel, is that I will try again. I think it is the kind of book that does deserve some kind of second chance, but for now, it remains on my DNF shelf.
Goodreads Average: 4.09/5 (Out of 251 ratings)