Welcome my dears! We are in that fabulous season where all the good books we saw last year are finally out! I thought I would give to you some of my most wanted. Finding 9 books to take it down to was so hard considering it is such a good year for books! They are in order of release date. As always, clicky the images for Goodreads!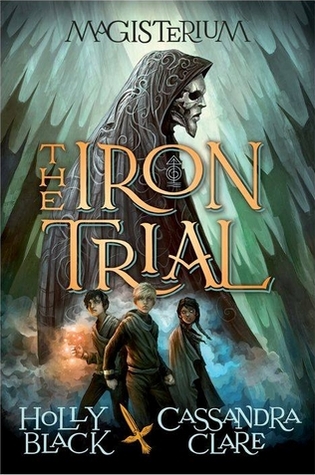 The Iron Trial by Cassandra Clare & Holly Black (Magisterium #1)
September 9th 2014
Double Day Children's Books
Goodreads Synopsis:
"From NEW YORK TIMES bestselling authors Holly Black and Cassandra Clare comes a riveting new series that defies what you think you know about the world of magic.
From two bestselling superstars, a dazzling and magical middle-grade collaboration centering on the students of the Magisterium, an academy for those with a propensity toward magic. In this first book, a new student comes to the Magisterium against his will — is it because he is destined to be a powerful magician, or is the truth more twisted than that? It's a journey that will thrill you, surprise you, and make you wonder about the clear-cut distinction usually made between good and evil."
My Thoughts:
I have not heard too much about this one. Although I do know that people with ARC's from Book Expo America are loving it! It will be interesting to see what CC is like outside the world of the Shadowhunters!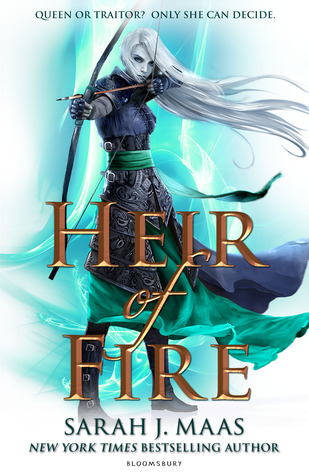 Heir of Fire by Sarah J. Maas (Throne of Glass #3)
September 11th, 2014 
Bloomsbury Publishing 
Goodreads Synopsis: (Spoiler warning for the series, this is 3rd book!)
"Lost and broken, Celaena Sardothien's only thought is to avenge the savage death of her dearest friend: as the King of Adarlan's Assassin, she is bound to serve this tyrant, but he will pay for what he did. Any hope Celaena has of destroying the king lies in answers to be found in Wendlyn. Sacrificing his future, Chaol, the Captain of the King's Guard, has sent Celaena there to protect her, but her darkest demons lay in that same place. If she can overcome them, she will be Adarlan's biggest threat – and his own toughest enemy.
While Celaena learns of her true destiny, and the eyes of Erilea are on Wendlyn, a brutal and beastly force is preparing to take to the skies. Will Celaena find the strength not only to win her own battles, but to fight a war that could pit her loyalties to her own people against those she has grown to love?"
My Thoughts: 
I have already read this one as I was fortunate enough to be on the receiving end of an E-ARC. The anticipation is rather for everyone else to read this than me. My review will be up soon and I can't wait to see everyone's reactions on this one. I adored it and it has the be the best in the series.
I'll Give You The Sun by Jandy Nelson
September 16, 2014 
Dial Books for Young Readers 
Goodreads Synopsis:
"A brilliant, luminous story of first love, family, loss, and betrayal for fans of John Green, David Levithan, and Rainbow Rowell
Jude and her brother, Noah, are incredibly close twins. At thirteen, isolated Noah draws constantly and is falling in love with the charismatic boy next door, while daredevil Jude surfs and cliff-dives and wears red-red lipstick and does the talking for both of them. But three years later, Jude and Noah are barely speaking. Something has happened to wreck the twins in different and divisive ways . . . until Jude meets a cocky, broken, beautiful boy, as well as an unpredictable new mentor. The early years are Noah's story to tell. The later years are Jude's. What the twins don't realize is that they each have only half the story, and if they could just find their way back to one another, they'd have a chance to remake their world."
My Thoughts:
I loved The Sky is Everywhere so when I found out Nelson was writing another novel, I had to jump on it. I hope I love this one as much as her other book I have read!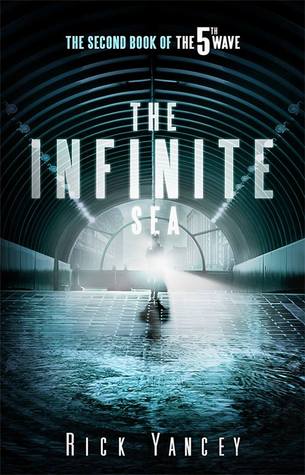 The Infinite Sea by Rick Yancey (The 5th Wave #2)
September 16th 2014
Penguin
Goodreads Synopsis (Spoiler warning as this is the 2nd book!)
"How do you rid the Earth of seven billion humans? Rid the humans of their humanity.
Surviving the first four waves was nearly impossible. Now Cassie Sullivan finds herself in a new world, a world in which the fundamental trust that binds us together is gone. As the 5th Wave rolls across the landscape, Cassie, Ben, and Ringer are forced to confront the Others' ultimate goal: the extermination of the human race. Cassie and her friends haven't seen the depths to which the Others will sink, nor have the Others seen the heights to which humanity will rise, in the ultimate battle between life and death, hope and despair, love and hate."
My Thoughts: 
I did not get along with the first installment in this series when I read it last year. It did however, keep me reading so this is definitely a case of curiosity killed the cat.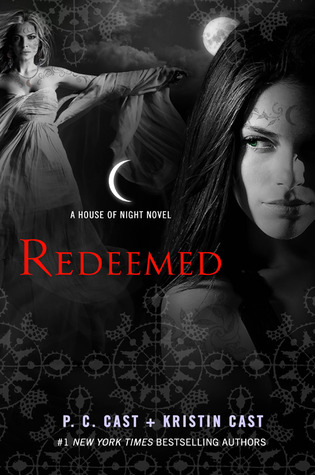 Redeemed by PC and Kristin Cast (House of Night #12 & finale)
October 14th, 2014 
Atom Books 
Goodreads Synopsis (Spoilers for the series as it is the last book!)
"In the final electrifying novel in the HoN series, Neferet has finally made herself known to mortals. A Dark Goddess is loose on Tulsa and the world. No single vampyre is strong enough to vanquish her – unless that creature has the power to summon the elements as well as the ability to wield Old Magick. Only Zoey Redbird is heir to such power…but because of the consequences of using Old Magick, she is unable to help. Find out who will win and who will lose in this epic battle of Light versus Darkness."
My Thoughts:
I started this series when I was 13 years old and I have followed it ever since. I am not in love with it as much as I was but I will love to see how it all ends since it has been with me for so long!
Talon by Julie Kagawa (Talon #1)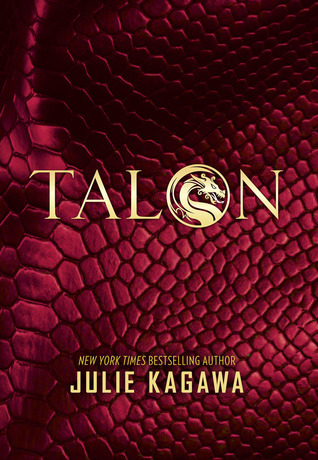 October 28th, 2014
Harlequin Teen
Goodreads Synopsis:
"Long ago, dragons were hunted to near extinction by the Order of St. George, a legendary society of dragon slayers. Hiding in human form and growing their numbers in secret, the dragons of Talon have become strong and cunning, and they're positioned to take over the world with humans none the wiser.
Ember and Dante Hill are the only sister and brother known to dragonkind. Trained to infiltrate society, Ember wants to live the teen experience and enjoy a summer of freedom before taking her destined place in Talon. But destiny is a matter of perspective, and a rogue dragon will soon challenge everything Ember has been taught. As Ember struggles to accept her future, she and her brother are hunted by the Order of St. George.
Soldier Garret Xavier Sebastian has a mission to seek and destroy all dragons, and Talon's newest recruits in particular. But he cannot kill unless he is certain he has found his prey: and nothing is certain about Ember Hill. Faced with Ember's bravery, confidence and all-too-human desires, Garret begins to question everything that the Order has ingrained in him: and what he might be willing to give up to find the truth about dragons."

My Thoughts:

Dragons and Julie Kagawa? Count me in! I am a huge fan of her books so when I found out this was in the works I was so happy!
 The Heart Does Not Grow by by Fred Venturini
November 4th, 2014 
Picador
Goodreads Synopsis: 
"EVERY SUPERHERO NEEDS TO START SOMEWHERE…
Dale Sampson is used to being a nonperson at his small-town Midwestern high school, picking up the scraps of his charismatic lothario of a best friend, Mack. He comforts himself with the certainty that his stellar academic record and brains will bring him the adulation that has evaded him in high school. But when an unthinkable catastrophe tears away the one girl he ever had a chance with, his life takes a bizarre turn as he discovers an inexplicable power: He can regenerate his organs and limbs.
When a chance encounter brings him face to face with a girl from his past, he decides that he must use his gift to save her from a violent husband and dismal future. His quest takes him to the glitz and greed of Hollywood, and into the crosshairs of shadowy forces bent on using and abusing his gift. Can Dale use his power to redeem himself and those he loves, or will the one thing that finally makes him special be his demise?The Heart Does Not Grow Back is a darkly comic, starkly original take on the superhero tale, introducing an exceptional new literary voice in Fred Venturini."
My Thoughts: 
I saw this in one of Bookriot's hauls and I had to have it. Luckily I have an E-ARC from Netgalley that I found a couple of days ago so I don't have to wait so long! This looks like a brilliant superhero novel and I can't wait to read it!
A Thousand Pieces of You by Claudia Gray (Firebird #1)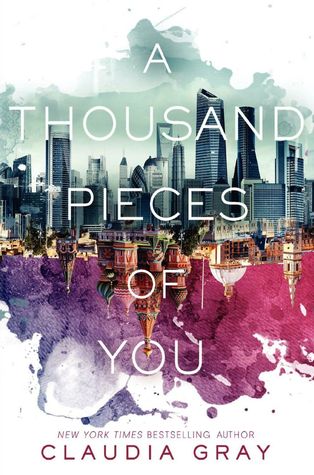 November 4th, 2014
Haperteen
Goodreads Synopsis:
"Marguerite Caine's physicist parents are known for their radical scientific achievements. Their most astonishing invention: the Firebird, which allows users to jump into parallel universes, some vastly altered from our own. But when Marguerite's father is murdered, the killer—her parent's handsome and enigmatic assistant Paul—escapes into another dimension before the law can touch him.
Marguerite can't let the man who destroyed her family go free, and she races after Paul through different universes, where their lives entangle in increasingly familiar ways. With each encounter she begins to question Paul's guilt—and her own heart. Soon she discovers the truth behind her father's death is more sinister than she ever could have imagined.
A Thousand Pieces of You explores a reality where we witness the countless other lives we might lead in an amazingly intricate multiverse, and ask whether, amid infinite possibilities, one love can endure."
My Thoughts: 
I have not heard too much about this one! All I know is that I have heard great things about Claudia Gray and I love the cover! So that is somewhere to start!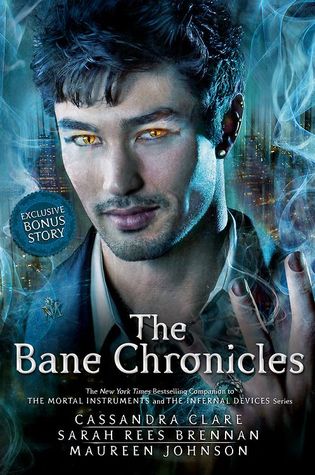 The Bane Chronicles by Cassandra Clare, Sarah Rees Brennan and Maureen Johnson
November 11th 2014 
Margaret K. McElderry Books
Goodreads Synopsis:
"A Collection of Ten Short Stories centred around Magnus Bane. Each short story is going to be published as an ebook followed by a Full Single Print Coming 2014
Ever wondered about the enigmatic, mysterious warlock Magnus Bane? The only character to appear in every Shadowhunter book, Magnus has a past even more shrouded in mystery than his present. I've teamed up with acclaimed YA writers Maureen Johnson and Sarah Rees Brennan to create the Bane Chronicles, the back (and front) story of Magnus told in ten linked tales.
Look for short stories like Vampires, Scones and Edmund Herondale; The Rise and Fall of the Hotel Dumort; Saving Raphael Santiago and What To Buy The Shadowhunter Who Has Everything (And Who You're Not Officially Dating Anyway). Each story will be available as an ebook on a monthly basis starting April 16 with the tale of What Happened In Peru."
My Thoughts:
Well, well, well. Another Cassandra Clare book! I need this in my life. I adore the TMI and the TID series and Magnus is one of my favourite characters. Having a book based on him this fall will make me very happy!
So these are all my most wanted for this fall! What do you think of these? Also, let me know your most anticipated in the comments!
Tiny disclaimer: As this is a blog based in the UK, I have mostly UK publishers and release dates. These may differ for you depending in which part of the world you are! 🙂