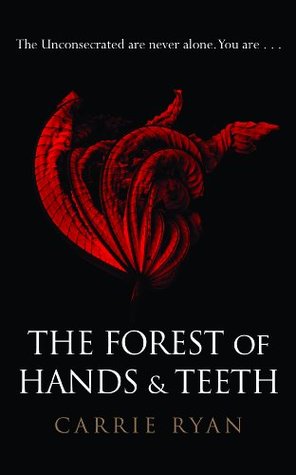 The Forest of Hands and Teeth | Carrie Ryan | Gollancz Publishing | The Forest of Hands and Teeth #1 | 5 Stars | Source: Bought | 310 pages | Young Adult | Zombies | Horror 
Release Date: March 10th, 2009
Goodreads
Goodreads Synopsis:
"In Mary's world there are simple truths. The Sisterhood always knows best. The Guardians will protect and serve. The Unconsecrated will never relent. And you must always mind the fence that surrounds the village; the fence that protects the village from the Forest of Hands and Teeth. But, slowly, Mary's truths are failing her. She's learning things she never wanted to know about the Sisterhood and its secrets, and the Guardians and their power, and about the Unconsecrated and their relentlessness. When the fence is breached and her world is thrown into chaos, she must choose between her village and her future—between the one she loves and the one who loves her. And she must face the truth about the Forest of Hands and Teeth. Could there be life outside a world surrounded in so much death?"
Review:
The Forest of Hands and Teeth was one of those books that I wanted and bought within a couple of days of hearing about it a few years ago. Once on my shelves, I ever so slightly forgot about it. I am sure many of us are guilty of this. Quickie rundown: I am so glad I finally got round to this.
Every now and again you come across a book where you genuinely don't know what is going to happen past a certain point. Who and if someone was going to die, if they would become infected, etc. It was truly gripping and I found my heart was pounding throughout, especially towards the last 100 pages. It was definitely a case of anything can happen and will happen.
Our main character comes in the form of Mary. She is probably is incredibly selfish. But, as time went on, I found it was for good reason. Her mother has been telling her stories about the ocean ever since she was a child and now possesses a need to get to it in any way she can.  It is a chronic need you see in every pages. She simply needs to see what is beyond the village, beyond the forest and beyond the infected that hang around the barriers constantly.
One element that I loved in the novel was the society in which it was set. I think the world building and logistics were so on point. They were described in enough detail to keep it interesting an informing rather than boring. The whole concept of how the village came to be and the Sisterhood was so intriguing.
Overall, this has to be one of my favourite zombie reads. It is brutal and doesn't pull any punches. They are surrounded by zombies, so someone is going to die and the author does not care if you like the character or not!
Goodreads Average: 3.61/5 (out of 56,280 ratings)