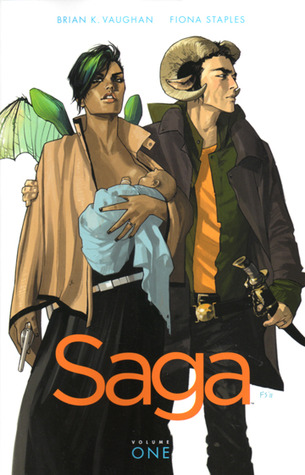 Saga Volume #1 | Written by Brian K. Vaughan and illustrated by Fiona Staples | Image Comics 5 Stars | Source: Bought | 160 pages | Collects issues #1-#6 | Science Fiction | Fantasy
Release Date: October 23rd, 2012
ISBN13: 9781607066019
Goodreads
Goodreads Synopsis: 
"When two soldiers from opposite sides of a never-ending galactic war fall in love, they risk everything to bring a fragile new life into a dangerous old universe.
From New York Times bestselling writer Brian K. Vaughan (Y: The Last Man, Ex Machina) and critically acclaimed artist Fiona Staples (Mystery Society, North 40), Saga is the sweeping tale of one young family fighting to find their place in the worlds. Fantasy and science fiction are wed like never before in this sexy, subversive drama for adults."
Review:
To say I am a comic newb would be a huge understatement. I love looking at comics, I have probably sniffed a couple in my time, but I have never actually read one.
Up until a couple of months ago, I had never heard of this comic book series. High fantasy mixed with sci-fi are usually not my thing at all. However, after seeing this around so much I decided to take the plunge and buy it.
Saga was the perfect intro and start for me when it came to the world of comics. The rumour that comics lack in plot is blown out of the water. We have a strong female heroine in the form of Alana and Marco who a loving and caring father to their child who has just come in to the world. A world that is falling apart that is.
When reviewers were saying this series was funny, they were not wrong. Saga is hysterical from start to finish. I genuinely found them funny and the characters had whit all the way through.
A small commentary on the illustrations. They were absolutely beautiful. You can already tell you are in for a treat by the cover but they are still breath taking.
I wholeheartedly recommend Saga Volume #1. I think this is perfect for both newbs and people who have always loved comics. I will definitely be carrying on with this series and I can't wait to get a hold of volumes 2 & 3
Goodreads Average: 4.37/5 (out of 28,289 ratings)
Small warning: See where it says for adults in the synopsis? It means it! Places in this graphic  novel are explicit and there is cursing so proceed with caution!