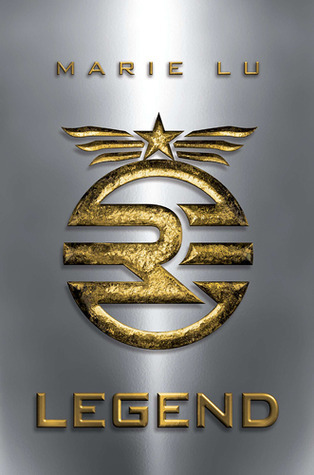 Legend | Marie Lu | Putnam Juvenile | Legend #1 | 305 pages | Young Adult | Dystopia | 5 Stars | Source: Bought
Release Date: November 29th 2011
ISBN13: 9780399256752
Goodreads
Goodreads Synopsis:
"What was once the western United States is now home to the Republic, a nation perpetually at war with its neighbors. Born into an elite family in one of the Republic's wealthiest districts, fifteen-year-old June is a prodigy being groomed for success in the Republic's highest military circles. Born into the slums, fifteen-year-old Day is the country's most wanted criminal. But his motives may not be as malicious as they seem.
From very different worlds, June and Day have no reason to cross paths – until the day June's brother, Metias, is murdered and Day becomes the prime suspect. Caught in the ultimate game of cat and mouse, Day is in a race for his family's survival, while June seeks to avenge Metias's death. But in a shocking turn of events, the two uncover the truth of what has really brought them together, and the sinister lengths their country will go to keep its secrets."
Review:
I had huge expectations when it came to this novel. I have followed its hype for over two years and Marie Lu is a sweetheart on social media. A combination of high expectations and a genuine want to enjoy Legend ended up playing out well for me!
Legend follows the story of June, a 15 year old prodigy born to one of the wealthiest families in what used to be the United States and now is the Republic.  After the death of a brother, she is reeling and with Day as suspect number one she is finding the best way to execute her revenge.
This turned out to be one of my favourite dystopias! I think the market is so saturated with them at the moment and this really is a diamond among the rough. The world building is on point. On the one hand we have June's perspective from a privileged lifestyle and on the other hand we have Day's who is on the receiving end of a man hunt living hour to hour.
I am not the biggest fan of a dual POV. I usually end up getting lost and having to skip back to the start of the chapter. This, however, was not the case with Legend. I found myself being able to distinguish the dual POV with ease.  June and Day are so well developed. They both have very distinct voices with absolutely no danger of confusion!
Overall, I thoroughly enjoyed this novel. I think it is a very strong start to a trilogy and I can't wait to get to the other books and see what is next from Marie Lu!
Goodreads Average: 4.18/5 (out of 149,043 ratings) <– A very strong one!