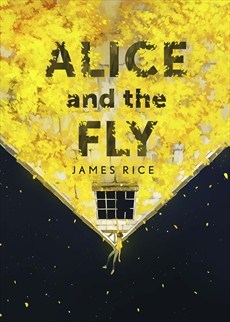 Alice and the Fly | James Rice | Hodder and Stoughton | Stand Alone | Source: Review/Bookbridgr | 366 Pages |  Young Adult Contemporary
Release Date: January 15th, 2015
ISBN13: 9781444790115
Goodreads
Goodreads Synopsis:
This is a book about phobias and obsessions, isolation and dark corners. It's about families, friendships, and carefully preserved secrets. But above everything else it's about love. Finding love – in any of its forms – and nurturing it.
Miss Hayes has a new theory. She thinks my condition's caused by some traumatic incident from my past I keep deep-rooted in my mind. As soon as I come clean I'll flood out all these tears and it'll all be ok and I won't be scared of Them any more. The truth is I can't think of any single traumatic childhood incident to tell her. I mean, there are plenty of bad memories – Herb's death, or the time I bit the hole in my tongue, or Finners Island, out on the boat with Sarah – but none of these are what caused the phobia. I've always had it. It's Them. I'm just scared of Them. It's that simple.
Review:
I haven't been around in a while so do pardon how rusty I will be! No words can do this book justice!
Alice and the Fly follows the story of Greg, a painfully shy, introvert boy and how he wades his way through life. It is very slice of life, we see everything about him from his life at home to at school. All the way through I had this chronic hollow feeling in my stomach. I always felt so sorry for him.
The novel is told in diary form, specifically written in the dairy his English teacher gave him to express his feelings. This is a form of storytelling I always enjoy, especially this time round. All of the days had the dates on them but not all of them. You tended to find that the ones without really did come from somewhere else.
I am not going to touch on Greg too much. He is quiet and observant. You are not told until the end of the novel whether there is truly something wrong with him but from the get go you see something that it not quite right. His arachnophobia is chronic and at times painful to read. The true extent of his fear was so well written and something I appreciated very much in this novel.
One of the most interesting parts of this novel was not necessarily Greg himself, but those who surrounded him. First of all we have Miss Hayes. She notices that there is something wrong and tries to help him, assumes the role amateur councillor and promptly gives up like he is some kind of school project. His parents just want a quiet life. They mostly avoid him and even go as far as telling him to act normal on a supermarket visit. This broke my heart a little. Greg himself is stunned at the request so it lingered with me for a while and even upon finishing the book.
As I said before, this novel is very "slice of life". There is the final unravelling in the plot, but something I found in this novel that was so different to the rest is the whole situation was completely avoidable. Most tragedies have a tendency of being completely unavoidable. No matter what order the events occur, they always end in the same way.  This one not so much. Although Greg has an illness, I always felt that he really is a product of his environment. I believe this is also a story that is true for many.
Alice and the Fly is a heartbreakingly beautiful novel that had me from start to finish. It is such a true and real portrayal of those who don't quite fit in with the societal norm. It had everything for me and I whole-heartedly recommend it.
Goodreads Average: 4.32/5 (Out of 32 Ratings)
Disclaimer: This novel was sent to me for free in exchange for a honest review.