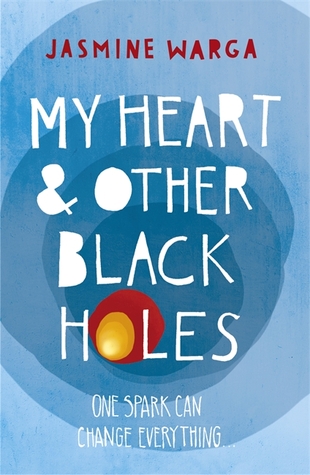 My Heart and Other Black Holes | Jasmine Warga  Hodder and Stoughton | Stand Alone | Source: Review/Bookbridgr | 320 pages | Young Adult  Contemporary
Release Date: February 12th, 2015
ISBN13: 9781444791532
Goodreads
Goodreads Synopsis
Aysel and Roman are practically strangers, but they've been drawn into an unthinkable partnership. In a month's time, they plan to commit suicide – together.
Aysel knows why she wants to die: being the daughter of a murderer doesn't equal normal, well-adjusted teenager. But she can't figure out why handsome, popular Roman wants to end it all….and why he's even more determined than she is.
With the deadline getting closer, something starts to grow between Aysel and Roman – a feeling she never thought she would experience. It seems there might be something to live for, after all – but is Aysel in so deep she can't turn back?
Review:
My Heart and Other Black Holes follows the story of Aysel and Roman, two teens that have come together in the most peculiar of circumstances. On April 7th, they are both going to commit suicide –together. They both have different reasons that have a common theme of family and the novel delves to why they have both come to this decision and how their relationship possibly changes it.
I adored this novel from start to finish. At just over 300 pages, it isn't particularly long. However it does have a great pace. It is incredibly thoughtful in the way it has portrayed such a frank and upfront view of suicide. Aysel's depression is described as a "black slug" crawling around inside her and eating away her happiness. I found this such a brilliant way of describing what she was feeling. Whenever she spoke or described what she was feeling, I just got it.
Throughout the novel you just don't see Aysel and Roman alone. You also get to see snippets of their lives at home. How their mothers wince every time they see them and how they just want their children to get better. It is something I admired and appreciated as depression is something that doesn't just effect the individual. Like throwing a stone in to a calm lake, it has a huge ripple effect.
There are many things that can be taken away from the novel. I personally was a huge fan of the emphasis on communication with family and friends and how cathartic it can be. Having a conversation with someone can be such, and proves to be a tipping point.
I wholeheartedly recommend this novel. It is such an honest view of what many have to go through on a daily basis. I can't wait to see what Warga writes next!
Goodreads Average: 4.17/5 (Out of 369 Ratings)
Interview:
I was immensely lucky to obtain this book for review in the first place. What I was even more surprised about was the fact that I was contacted and asked if I wanted to ask Jasmine a few questions. I was so eager to find out the story of My Heart and Other Black Holes came to be and what went in to the writing process. I hope you enjoy her responses as much as I did!
1. What Inspired you to write about the hard hitting topic that is teen suicide?
"I wrote the book after the unexpected loss of a dear friend, and so while the novel is a complete work of fiction (not based on him or me or anybody I know), I do think my grief served as a chief inspiration. Additionally, I'd always wanted to write a book that really delved into the realities of depression from the viewpoint of someone who was actively suffering. I think one of the best ways to combat the stigma surrounding mental illness is to talk about it more frequently, and my hope is this story can be one more voice advocating for empathy and understanding for those who are struggling with depression and suicidal ideation."
2. What research did you do when writing My Heart and Other Black Holes?
"To be honest, I hardly did any research. I wrote the book from my gut and my heart and my own experiences. The one real piece of research I did was about incarcerated parents and visiting times. And though I didn't do any personal research into mental health issues, my editor did have the manuscript reviewed by a respected psychiatrist and I was so pleased when he said that he found the book to be a thoughtful and authentic and responsible representation of teenage depression and suicidal ideation."
3. I am a huge fan of finding out the motivation behind the names authors give to the characters? Why Aysel and Roman?
"I named Aysel after the Turkish word for "moon" or "moonbeam"–I come up with names for characters by thinking about how their parents would've named them, and I can imagine Aysel's dad choosing to name his daughter after the moon. As for Roman, I googled popular male names in Kentucky and happened upon Roman and it fit for me. Again, I could see his mother having really been drawn to that name as I think it's simple, but also almost noble-sounding."
4. I took a lot away from My Heart and Other Black Holes. I adored the emphasis on the need for communication and how cathartic it can be. As the author, what did you take away from the whole process of building and writing you debut novel?
"Thank you so much! I think I also re-learned how important it is to communicate with the people you love and how toxic it is to keep your own darkness trapped inside of you. And more than that, how important it is to really encourage the people you love to communicate with you, to share what is going on inside their heads. Most importantly, it made me really think hard about that old adage that kindness and understanding are two of the most important forces on the planet."
5. Finally, as mentioned before, this is your debut novel. Do you have anything else in the works at the moment?
"Yes! I'm working on a second novel which will hopefully come out sometime in 2016."
Huge thank you to Jasmine for answering all of my questions in such detail. You can follow her over on twitter @jasminewarga and My Heart and Other Back Holes will be out on the 12th of February from all good book stores and online retailers.