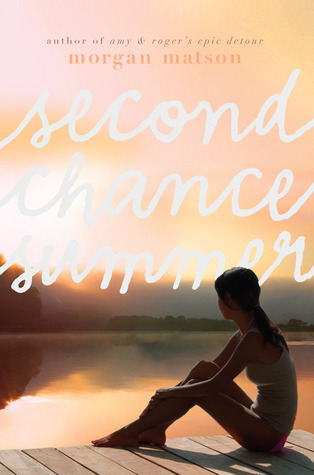 Second Chance Summer | Morgan Matson | Simon and Schuster | Stand Alone | 5 Stars | Source: Bought | 468 pages | Young Adult | Contemporary
Release Date: May 8th, 2012
Goodreads
Goodreads Synopsis:
Taylor Edwards' family might not be the closest-knit—everyone is a little too busy and overscheduled—but for the most part, they get along just fine. Then Taylor's dad gets devastating news, and her parents decide that the family will spend one last summer all together at their old lake house in the Pocono Mountains.
Crammed into a place much smaller and more rustic than they are used to, they begin to get to know each other again. And Taylor discovers that the people she thought she had left behind haven't actually gone anywhere. Her former best friend is still around, as is her first boyfriend…and he's much cuter at seventeen than he was at twelve.
As the summer progresses and the Edwards become more of a family, they're more aware than ever that they're battling a ticking clock. Sometimes, though, there is just enough time to get a second chance—with family, with friends, and with love
Review:
This is not the first of Morgan Matson's novels I have read. I read Amy and Roger's Epic Detour back in 2011 and I absolutely loved it. I feel in love with Matson's writing style. There is something about it that just makes a whole story flow. It took me just over a day to finish this novel. I loved it so much and just as much as her first!
I was not a huge fan of Taylor or any of the ladies in this for that matter. I completely understand them and their actions because the situation they were in added a lot of tension to the bonds in the family. I was a fan of the relationships, though. It is obvious that Taylor has done something wrong when she gets to the lake house. She left a lot of hurt behind and seeing her slowly but surely deal with that, definitely added to her character development. Also, seeing the whole family together for the sake of their father was beautiful.
Just a quick note on the father, he was definitely my favourite character. He is you typical daddy with horrific puns and jokes. It makes him so endearing. Also seeing how he changes throughout the summer with regards to his illness, although it was harrowing, it was so well done. I think the whole concept of death and the effect it has on the whole family was portrayed well and true to many family situations!
Overall, this is an immensely beautiful contemporary. With many themes including family, death and reconciliation, I think this is the perfect contemporary read. It shows that every moment counts and all the effort is worth it in the end!
Goodreads Average: 4.13/5 stars (out of 13, 080 ratings)
Want to buy it? Amazon UK | Amazon US | The Book Depository