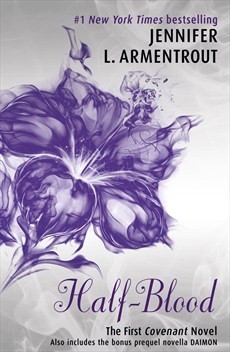 Half-Blood | Jennifer L. Armentrout | Hodder and Stoughton Half-Blood #1 | 5 Stars | Source: Review (Bookbridgr) | 400 pages Young Adult | Fantasy
Release Date: August 14th, 2014 (Original publishing: 09/2011)
ISBN13: 9781444797992
Goodreads
Goodreads Synopsis:
"The Hematoi descend from the unions of gods and mortals, and the children of two Hematoi – pure-bloods – have godlike powers. Children of Hematoi and mortals – well, not so much. Half-bloods only have two options: become trained Sentinels who hunt and kill daimons or become servants in the homes of the pures.
Seventeen-year-old Alexandria would rather risk her life fighting than waste it scrubbing toilets, but she may end up slumming it anyway. There are several rules that students at the Covenant must follow. Alex has problems with them all, but especially rule #1:
Relationships between pures and halfs are forbidden.
Unfortunately, she's crushing hard on the totally hot pure-blood Aiden. But falling for Aiden isn't her biggest problem – staying alive long enough to graduate the Covenant and become a Sentinel is. If she fails in her duty, she faces a future worse than death or slavery: being turned into a daimon, and being hunted by Aiden. And that would kind of suck."
Review:
Yet another JLA book finished in one sitting. I am on a roll. Well, JLA is.
Half-Blood follows the story of 17 year old Alex. A half-blood herself, she has chosen the path of a Sentinel. There is a small problem of graduating first, but there is a lot more to worry about. From leaving the Covenant for no reason to being hunted by daimons (pronounced dee-mons) you can tell from the start that this is going to be a journey for her.
I think it is going to be a given that I love a JLA book from now on. As I said before, I finished this in one sitting and I could not put it down. This book just kept on giving whether it be character development, mythology or both at the same time.
I loved all of our characters in this novel. Alex (she has a pretty cool name right ;D) although annoying at times was a perfect heroine. She was stubborn and strong in equal measure. Sometimes characters aren't there to be liked or agreed with. You develop a certain level of empathy and understanding with her that makes her actions justified.
Half-Blood has some brilliant mythology. I found the whole concept of the Half-Bloods and Hematoi's so intriguing. I loved finding out about the gifts that  they had  and following the politics between them. I think this is a subject that has a lot more to give and I can't wait to see it develop more.
This is a very strong start to a series. It struck the perfect balance between establishing the foundations of a series and being a worthwhile read in itself. I will definitely be continuing the series!
Goodreads Average: 4.19/5 (out of 35,306 ratings)